Electrical hockey sticks
What are electrical hockey sticks?
An electrical Hockey Stick is a 38mm or 44mm diameter conduit with a bend to one end. It is usually used to transfer cables easily and safely from one location to another. The role of the hockey stick is to protect the mains electrical cable from under the ground to entering an Electric Meter Box.
See below example of an outdoor electrical enclosure with a plinth and in red the hockey stick.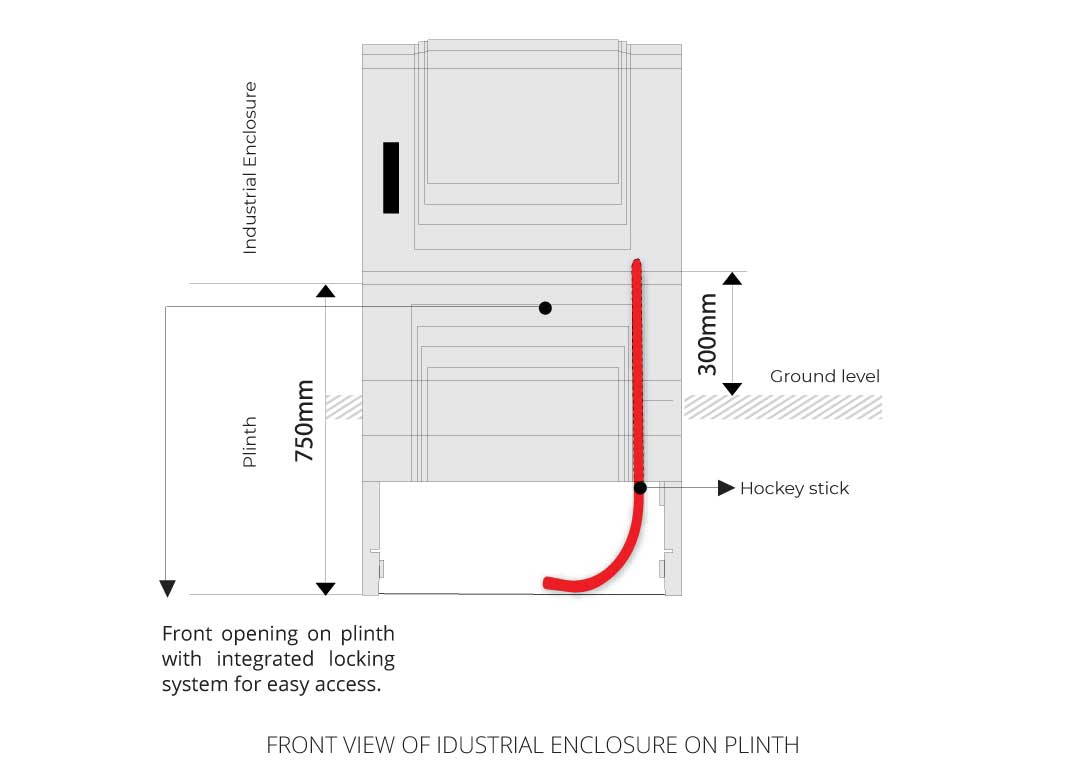 Surface-mounted or Internal cavity use
Here at MeterBoxesDirect, we have two types of hockey sticks available:
38mm
The 38mm hockey stick is ideal to work with the surface or recessed electric meter boxes and use on external walls or internal walls.
White

38mm diameter

1450mm high

310mm long

Weight: 0.57 kg

Made of UPVC material
View product page of the Hockey Stick 38 mm
44mm
This hockey stick is also for electric meter boxes, but this time the diameter is wider (44mm). Ideal for 3 Phase Meter Boxes.
Black

38mm diameter

1200mm high

480mm long

Weight: 0.55 kg

Made of UPVC material
View product page of the Hockey Stick 44 mm
What colour electrical hockey sticks should be?
It all depends on your usage of the hockey stick. On MeterBoxesDirect hockey sticks are white and are suitable for both internal and external use.
How to install an electric meter box and a hockey stick?
Depending on the country, you must follow the relevant guidelines. These will include minimum depths.
Ensure that the electricity warning tape is installed at the correct depth below ground level, along the full length of the duct.
The installer must ensure that the meter box is in the correct location, with the pre-drilled hole to accept the hockey stock is at the bottom of the box.

The hockey stick duct must be brought up the cavity and into the cabinet at construction the phase.

The hockey stick must project 25mm (1 inch) into the meter box.

Ensure clearance of 100mm between the hockey stick/service duct and other services on the house-holders property.
Do I need a hockey stick for recessed electric meter boxes?
Yes, you do need a hockey stick for recessed electric meter boxes.
Do you need a hockey stick for electricity connections?
Not always, do consult with relevant regulations and legislation.
How to seal an electrical hockey stick?
The hockey stick / duct end must be sealed with plastic-wrapped adhesive tape.
What is the difference between a hockey stick and a ducting bend?
The hockey stick shall be as straight as possible and free of sharp bends.
If you are unsure about carrying the work, please use a qualified and certified electrician.