Water Ingress Testing for IP44 Rating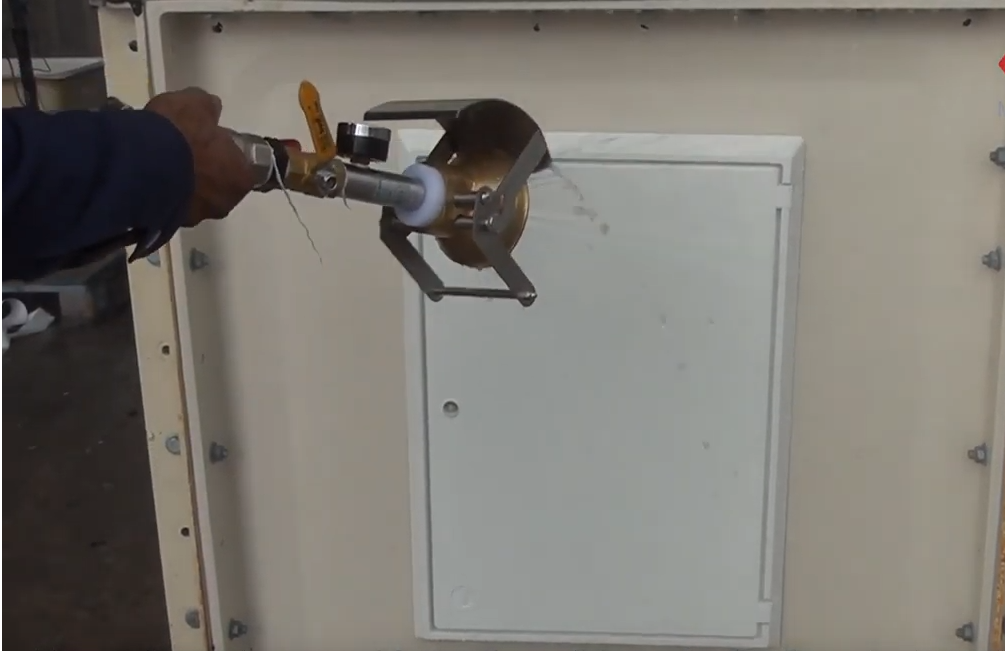 In order to offer our customers best in class products, MeterBoxesDirect performs many monthly water ingress testing on our range to ensure all our offerings are compliant with the current European and British standards.
That's why we recently conducted in-situ IP44 water ingress testing on our electric meter boxes with a spray nozzle.
Steps included in water ingress testing
First of all, we used a water spray nozzle for the water ingress testing of the IP44 rating of our products according to the European IEC 60529 standard. That is to say, the ability of our meter boxes to keep the outside environment - like solid bodies - from interfering with their operation. The intrusion of splashing water in electrical enclosures gets particularly monitored.
The product used for the test was, therefore, one of our electricity meter boxes. The water ingress testing was undertaken in our Head Office Engineering Facility and emulated an in-situ installation for a domestic dwelling to check the degree of protection of our products.
The water pressure and flow rate from the spray nozzle were adjusted to 0.1MPa to meet test standards, and any potentially harmful effects of the water jets got monitored.

The enclosure was sprayed from all possible angles for five minutes straight to assess the IP rating of our meter boxes as per the standards.

The results of the water ingress testing got assessed upon completion and the results confirmed that our Glass Reinforced Polymer - (GRP) - manufactured meter box was indeed weather resistant as it remained dry inside. Our meter box can prevent water from accessing hazardous parts of an electrical installation.
In summary, the positive results of this water ingress testing mean that our customers can rest assured that our electric meter boxes are not only fire retardant but also water resistant. All our meter boxes either fully comply with the British Standard BS 8567:2012 or BS 8499:2017. These standards give the required requirements for gas meter boxes or outdoor electricity meter cupboards such as hinge strength.
You can watch the video of the water ingress testing here.
Our meter boxes
MeterBoxesDirect electric meter boxes come supplied with hinges, lock and key. They can be completed with a timber backboard and hockey sticks to protect the cables of your electrical installation. Moreover, they are suitable for all meter types, including pre-pay and smart meters, as they are available in different sizes. Furthermore, they are easy to clean and can be painted.
If you are interested in our electric meter boxes, you can buy them from our dedicated category page, or you can call us on +44 844 809 4206 to place an order.
It's important to note that we do recommend qualified electricians to install our meter boxes