What is a gas key?
Our website MeterBoxesDirect is selling a variety of wall mounted and recessed gas meter boxes. All of our product range conforms to required industry standard. Our meter box range is made from Glass Reinforced Plastic (GRP) which is best in class for its technical specifications such as toughness, high robustness in outside environment and resistance to corrosion. All of our gas meter boxes are made from fire retardant material which make these products safe in case of fire and also make these comply with relevant standards.
All our gas meter boxes are supplied with the gas key when you buy it on our website.
How can I buy a gas key?
Our website MeterBoxesDirect is also selling spare parts for meter boxes. We supply a range of meter box keys for gas meter box units. These are supplied in both 2-unit pack offerings and 50-unit pack. The gas key is suited for:
the standard UK gas box doors MK1 and MK2

All UK Gas doors (Mitras, Permali, Manweb, Atplas, Killarney Plastics, Tricel)
The 2 Pack of yellow gas key is one of our best-selling meter box spares. Made from plastic, the gas key is very light and can be easily replaced. We also stock a variety of keys, locks, latches and hinges to suit all repair needs. Don't hesitate to have a look on our brochure
The pack of Gas Meter Box Keys will be delivered by Royal Mail within 1-2 working days. We also offer an equivalent key for Electric Meter Boxes.
Can't see what you are looking for? Visit our Spare parts page to see our full collection.
More general information
Tricel has been active in the construction of meter boxes for over 40 years and supply many of the industry leaders, such as British Gas and the National Grid. All our products are developed with both precision and industry needs at the forefront of our minds. The many years garnered within the industry are evident in the quality of all products which we produce. We also specialise in the development of custom moulds to help customers solve unique issues.
How to fit and measure meter boxes door?
How do I fit meter boxes door?
Get in touch with our customer service
Contact us by phone from Monday to Friday between 8.30am and 4.30pm +44 844 809 4206, by email onlinesales@meterboxesdirect.co.uk or through our webchat. Find us on Facebook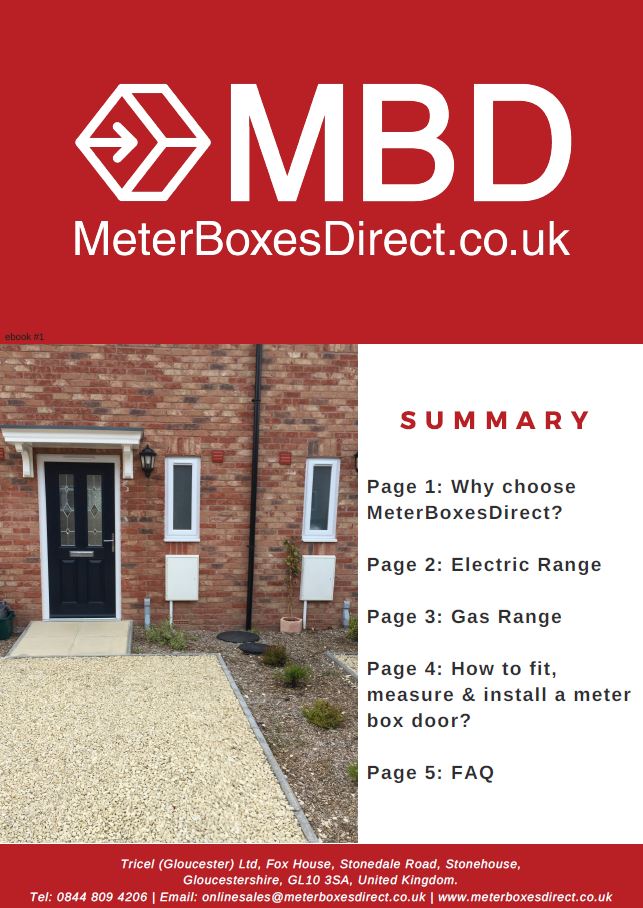 MeterBoxesDirect.co.uk
MeterBoxesDirect.co.uk Electric & Gas meter boxes, replacement doors & spare parts. Find details in our Guide.
Free Download